Balancing Physiological Functions
Facial Meridian
Moxibustion is a therapeutic method of traditional Chinese medicine that involves applying heat by stimulating a series of points of the body ¬ in order to heal disorders or diseases and achieve the balance of  physiological functions.
Moxibustion is used in many cases combined with acupuncture, because both techniques are not only complementary and compatible, but can enhance its healing effect. The same points are usually used for this therapy as in acupuncture, since the two therapeutic methods obey the same medical tradition and respond to the same energy channels.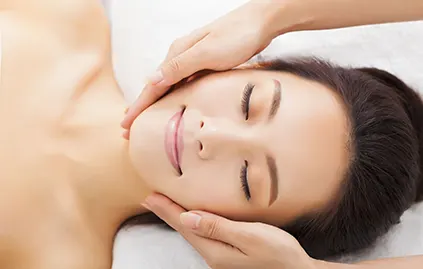 Moxibustion is a traditional technique that involves the burning of Chinese mugwort (Ai Ye), a small, spongy herb, to facilitate healing. Moxibustion has been used throughout Asia for thousands of years.
Common cold and respiratory disorders, such as hay fever and seasonal allergies.
Immune system support.
Pregnancy support, including turning breech baby during pregnancy.
Gastrointestinal disease, such as peptic ulcers, irritable bowel disease, crohn's disease, chronic diarrhea, and ulcerative colitis.
Pain management due to osteoporosis, osteoarthritis, meniscal tears, or any injuries that are not easily healing.
The practitioner holds a burning moxa stick over the body providing the body with a warm stimulating effect to the pressure points. The heat and aroma help boost blood circulation leading to the release of natural feel-good chemicals in the body called endorphins that relieve pain and stress and loosen and relax tight muscles.
Moxa stick with herbal properties.
Pressure Points for Moxibustion Therapy (Not Using Needles).
Volcanic Clay Application.
Essential Oils Application.
To Condition Health by Boosting Vitality.